Thank you Pinterest for making this one of my most viewed posts! If you like crafty tutorials, be sure to check out my other fun projects linked above.
I am so thrilled to be a part of Scrapbook Heaven's first ever blog hop (and it happens to be my first blog hop, too)! Thanks so much for joining us!
If you're popping by here and didn't know the fun that's going on, please go back to Scrapbook Heaven to get all the deets for the Hop. Our members have some wonderful inspiration to share with you..... and also, some great prizes.
The theme for the Hop is "Spring in my Step". We'll be sharing a variety of Spring-y projects with you.
So here's mine:
A
*green*
journal.
There's lots of
recycling
packed into this little book. Let's get started, shall we?
Rescue a pair of poor, ripped, never-to-be-worn-again
jeans
from the trash
Prepare your materials:
2 pieces of denim and chip board (I used the
backing of last year's blotter calendar
) cut to the same size
Patterned paper scraps
cut 1/2-3/4" larger than the chipboard
A flower embellishment (mine is made from
used dryer sheets
--more on that later)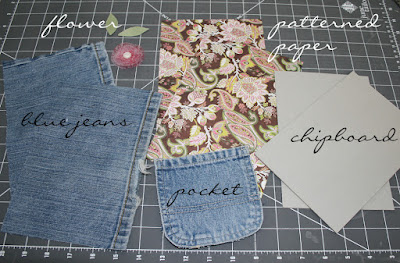 Cover one side of the chipboard with patterned paper.
Make mitered corners by snipping the corners off the paper to a spot equal to the thickness of the chipboard. Glue and fold over edges.
This is about the spot in the tutorial that I got a bit excited about the project and completely stopped taking pictures. Sorry about that, but I know you'll get it without the visuals, so here we go.
I kept the hem of the jeans in tact on one side, and sewed the other three sides on both pieces. I didn't bother turning the fabric under, but just sewed close to the edge to keep fraying under control. If those little stray pieces bother you, then be sure to add a seam allowance when you cut your denim.
Now stitch the pocket to the denim on three sides twice around. And add your little flower embellie. Oh, here's how you make the one I used. Cut a used dryer sheet into four different sized circles (they don't need to be perfect), or use the Sizzix Circles die. Add color to the circles by misting them with ink. Layer the circles from largest to smallest and stitch a button to the center.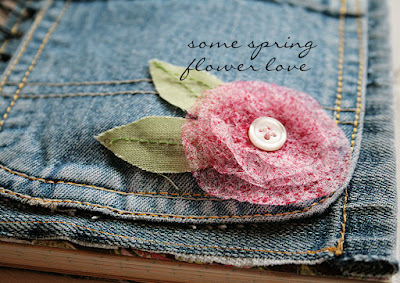 Glue the pocket-embellished-denim to the front cover, and the plain denim to the back. Cut bunches of
scrap paper
to size to use as your journal pages. I used leftover paper from a nearly used up spiral notebook, some solid cardstock scraps, and some copy paper. I also like to add some little page protectors to my journals to add bits of this and that. Bind it all together with a binding machine, or use the Crop-a-Dile to punch holes and secure with rings or tied ribbon. Add a bit of ribbon to the binding, and some pens in the pocket.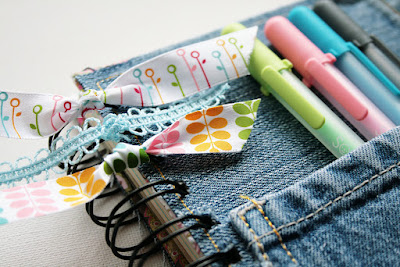 And there you have it, a recycled journal complete with on-board pen holder.
Thanks so much for hanging in there through all those directions. Our blog hop runs from today, April 17th until April 20th. Invite your friends to play along! We'll be drawing for prizes on Wednesday, the 21st. Leave a comment here before the 21st for a chance to win an assortment of handmade flower embellies.
{Note: these images are the result of my own work, and are copyrighted by me under content of my blog. If you would like to share this project on your site, please use only one photo and include a link back to this page. Thank you!}